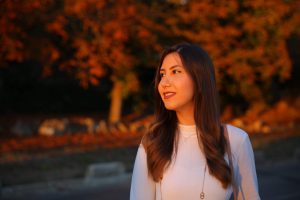 My name is Golshid and I'm from Khorramabad, Iran. I did my master in Chemical Engineering with a particular focus on Thermo-kinetics and Catalyst at Amirkabir University of Technology (Tehran Polytechnic). During my studies, I had chance to work on different kind catalyst and reactors. Also, I did an internship on a particular kind of catalyst at Ecole Polytechnique which they made me to pursue my studies in Pioneer Program. This would be an opportunity for me to find a path through environmental challenges and being a part of this solving climate change issue.
Now I am a PhD student under supervision of Prof. Patrick Da Costa at Sorbonne University and co-supervision of Prof. Carlos Henriques at IST-Lisboa. My topic is basely focused on plasma catalytic reactor design. The purpose is to understand on one hand, the appropriate reactor structure in the field of geometry and physical property and on the other hand, find the best catalyst to investigate the effect of plasma and catalyst on each other.
| | |
| --- | --- |
| Overview | |
| ESR: | 9 |
| Title: | Tayloring selectivity with different plasma sources |
| Home Institution: | Sorbonne University (SU) |
| 1st Supervisor: | Patrick Da Costa |
| Host Institution: | Instituto Superior Técnico Heterogeneous Catalysis and Catalytic Processes (IST-CATHPRO) |
| 2nd Supervisor: | Carlos Henriques |
| Industrial Partner: | Green Syn Fuel |
| Industrial Contact: | José João Campos Rodrigues |
Objectives
CO2 hydrogenation to methane, Dimethyl Ether or Methanol is nowadays one of the most mature technologies for CO2 catalytic valorisation. However, driven by the thermodynamics at low temperature, the catalytic reaction needs to be assisted in order to take place at low temperature. The use of a DBD plasma has already proved its efficiency in decreasing the reaction temperature by activating the molecules, ions, atoms, presents in the chemical reaction. The optimization of the DBD plasma (pulsed or not) coupled with the optimization and the design of the catalyst is the aim of this PhD research topic. Thus, PhD research activities will focus on the development of a micro-meso-structured optimized catalyst in order to activate CO2 at low temperature (IST-CATHPRO ) coupled with the optimized dielectric barrier discharge (DBD) plasma assisted CO2 hydrogenation (SU) with a variable geometry (cylindric, parallelepiped, planar etc.). The catalysts will be thoughtfully characterised by state-of-the-art techniques to provide all the needed structural, textural and acid-basic properties for methanol and DME production.
Links with other ESR
Expected Results
Determining the best design for recycling processes of DBD plasma-catalytic system, in terms of Energy deposition, Energy cost and catalytic efficiency
Secondments
IST-CATHPRO: Design new catalytic materials and well characterize the catalysts
Green Syn Fuel: Realistic design of industrial reactors